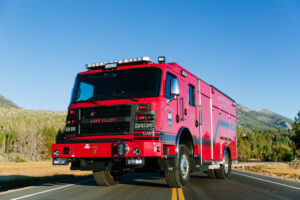 Competitive Entry Level Exam Announcement for:
Firefighter/Paramedic
(Open and Continuous Recruitment)
The Lake Valley Fire Protection District is a local government agency created and operated pursuant to California State Law; by the Fire Protection Law of 1987 – Health and Safety Code, Section 13801 through 13999. It provides 24-hour emergency fire, rescue, emergency medical services and other safety activities. The District's policies are set by a 5-member elected Board of Directors.
Lake Valley Fire Protection District serves the residents of El Dorado County in the Lake Tahoe Basin area. Our jurisdiction extends north to include Emerald Bay on Hwy 89, west to Twin Bridges on Hwy 50, south to the intersection of Hwy 88 and Hwy 89 in Alpine County, and east to the Nevada State line not including the City of South Lake Tahoe.
Job Description: This is a full time position working as a Firefighter/Paramedic. This is a position represented by the current Memorandum of Understanding with the Lake Valley Professional Firefighters Association. The official job description is available on our website.
This job has a probationary period of twelve (12) months from the "date of hire." During the probationary period, the employee must receive satisfactory evaluations and complete the "California State Firefighter 1 Certification" process. A probationary employee is an "at will" employee and may be terminated without cause.
The Firefighter/ Paramedic engages directly in fire suppression, fire prevention education, rescue, hazardous materials, and advanced emergency medical services. Employees within this class are required to maintain a valid State of California Emergency Medical Technician-Technician License with El Dorado County Accreditation.
Wage and Benefits:
Salary Range: The current base salary step range is $6794.70-7925.34 per month.
Benefit Package: The benefit package is detailed in the Memorandum of Understanding with the Lake Valley Professional Firefighters Association. Benefits include vacation time, sick leave, compensatory time, retirement, and educational and insurance incentives.
Minimum Qualifications: All proof of minimum qualifications must be turned in with application.
Minimum 18 years of age
Current California Class C driver's license or equivalent
High School Diploma or equivalent
Current CPR certification to the Health Care Provider level
CPAT (Candidate Physical Ability Test) completed after November 1, 2021
Current California State Paramedic License or National Registered Paramedic (California

       

Licensed and local accreditation required within 60 days of appointment.)
*California State Firefighter I or Certificate of Completion from an accredited fire academy
Proof of these documents must be provided with a resume and application
           Desired Qualifications:
Local/El Dorado County Experience
CTESOA experience
Paramedic Qualifications:
● California Paramedic License or National Registry Paramedic at time of appointment with no open or             pending disciplinary actions, suspensions, revocation, etc.
● Must complete El Dorado County EMS Accreditation process within 60 days from "start date."
Application Process:
Applications are available at the Fire Station #7 Business Office located at 2211 Keetak St., South Lake Tahoe or online at www.lakevalleyfire.org. Completed applications with resume, cover letter and proof of the above listed qualifications can be submitted via mail or delivered to the on-duty Battalion Chief at Fire Station #7 Business Office, 2211 Keetak Street, South Lake Tahoe, California, 96150 between 0900-1700 Hrs. All applicants meeting the "minimum qualifications" listed above will be notified by e-mail or telephone and given further details to participate in the testing process.
Testing Process: This is an open- continuous recruitment. The District will conduct testing on an as needed basis. Qualified applicants will be notified of testing information. Positions will remain open until filled.
Firefighter Written Examination and Skill Assessment
● The written exam will be a timed, multiple-choice test from IFSTA Firefighter Essentials,6th ed. (Emphasis on chapters 5, 8, 12-17)
● Applicants must pass the written exam with a minimum score of 70% to advance ● Firefighter skills will be based on California State Fire Training Firefighter 1A skill sheets
EMT-P Written Exam and Skills Assessment
● The written exam will be a timed, multiple-choice test based on current National Registry of Emergency Medical Technicians standards National Registry of Emergency Medical Technicians (nremt.org) ● Applicants must pass the written exam with a minimum score of 70% to advance ● Paramedic skills/scenarios testing based on National Registry of Emergency Medical Technicians ALS psychomotor certification standards ● Applicants must pass all of the Pass/Fail skills/scenarios testing stations to advance
Oral Interview
● The oral interview will be a series of questions relating to the knowledge, skills and abilities of the applicant to perform the duties of a Firefighter/Paramedic.
● Applicants must pass the oral interview with an overall average score of 70% to advance
Note: Applicants must successfully pass ALL sections of the exam process to be placed on the "Eligibility List."
Hiring Process:
After testing has been completed, applicants will receive written notice of eligibility/ineligibility from the fire district. Eligible candidates will be placed on an "Eligibility List". The eligibility list will be valid for two years from the date the list is established. When the fire district needs to fill a Firefighter/ Paramedic position, the Fire Chief may select candidates from the eligibility list and conduct a Fire Chief's Interview.
Following the formal offer of employment by the Fire Chief, the applicant must pass a drug test, comprehensive medical exam, psychological exam, and criminal background check. After successfully completing this final screening process, the Fire Chief will notify the applicant of their "date of hire." Probationary Firefighters/ Paramedics will receive training and orientation for the position prior to assignment. Job related training will continue throughout the probationary term and beyond.
Respect, Integrity, Dedication, Positive Attitude and Teamwork
                    2211 Keetak St., So. Lake Tahoe, CA. 96150 ∙ (530) 577-3737 ∙ Fax (530) 577-3739 ∙ www.lakevalleyfire.org